Monday, January 28, 2008

Never Pass Out At The Stein House

Once upon a time, in a land far far away.......Way back when we didn't have kids and we could act really stupid and sleep it off the next day.

I have these pictures that Some friends and I took of Clint. He made the mistake of passing out with three

drunks

still up and looking for entertainment. We proceeded to paint his toes, put make up on him and just pretty much screw with him. We documented it all on film, much to his dismay.


Then there was the New Years Eve a few years back when Clint had a wee bit too much to drink and was

rendered

paralyzed for a short period of time. Again, several friends and I took this as a great photo opportunity. We now have some lovely photos of my friends and I with a drunken, green Clint.

I of course am entirely too lazy to go find said photos, scan them and post them. Which really is fine because the true reason for this post is to state the fact that Ethan really is a chip off the old block. The little darling can fall asleep anywhere, anytime if he is tired enough.


Now, being the family of asshole, jerks that we are, I could not just carry the little guy off to bed. No way Jose!!!! I must pass on to the other children what we do when we have such an opportunity. You must never pass up such wonderful photo ops.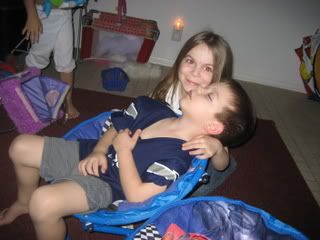 Emily jumped right in. She knows a good time when she sees one. Steven took a little coaxing, but he too joined in the fun.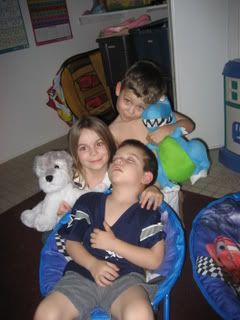 Of course being the

sen say

of good times, I jumped in to top off the education with the great "group photo".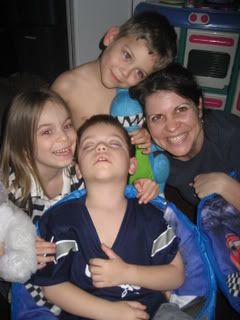 Labels: chip off the old block, family time, fun, jerks, kids, pass out, photos

The Chapter Stories of Drama

Katy Nichols Stein
|
Create Your Badge
A Fan Of Stephen Lynch
Self Proclaimed Poop Machine
I Feel Like Jill In The Beanstalk
The Real Housewives of The OC..I AM A BAD TV JUNKY...
What's New PussyCat
Super Freak, Super Freak, She's Super Freaky
What I Miss About Being An Army Wife
"No Mommy, Don't Beat Me"
A Brand New Year
Making Friends Amongst Dogs or Kids